Someone with caramel toned skin has a complexion that looks golden brown, like the color of caramel sweets. This skin type has a small amount of melanin and pigment that determines the color of the skin, hair, and eyes. It's usually a shade between medium and dark and looks rich and warm.
This skin tone is usually associated with individuals who have a mix of warm undertones in their skin. When discussing skin tones, it's always best to be sensitive and respectful of the diversity and individuality of people's appearances.
What is Caramel Skin Tone?
"Caramel skin tone" refers to a warm and rich complexion that resembles the color of caramel candy or syrup. Its golden-brown tint differentiates it from other skin tones in the medium to dark range. This skin tone is often associated with individuals who have a mix of warm undertones in their skin. Just like the diversity found in human skin tones, "caramel skin tone" represents one facet of the wide spectrum of appearances. It's important to recognize and appreciate the uniqueness of each individual's skin color while using descriptive terms like these with sensitivity and respect for the full range of skin diversities.
How To Determine If You Have Caramel Skin
Caramel toned skin is a term often used to describe a specific range of skin tones that are warm and golden, resembling the color of caramel. It typically falls within the medium to dark skin tone range, and it can have undertones that are warm or neutral. If you're wondering whether you have caramel toned skin, here are some general characteristics and ways to determine if your skin falls within this category:
Undertones: Caramel skin usually has warm or neutral undertones. Warm undertones might have hints of golden, peachy, or yellowish hues, while neutral undertones might not lean strongly toward warm or cool colors.
Color Depth: Caramel skin is usually medium to dark in color depth. It's darker than fair or light skin tones but not as deep as very dark or ebony tones.
Golden Hue: Caramel skin often appears to have a golden glow, resembling the color of caramelized sugar. This warmth can be seen particularly under natural sunlight.
Reaction to Sun: People with caramel skin tend to tan easily and rarely burn in the sun. Their skin might turn a shade or two darker with sun exposure.
Complementary Colors: Earthy tones, warm shades of brown, and golden hues often complement caramel skin well.
Vein Color: Look at the veins on the underside of your wrist. If they appear more greenish, you likely have warm undertones, which can be common in caramel skin.
Jewelry Test: Consider whether gold or bronze jewelry complements your skin tone better than silver. Caramel skin often looks more radiant with gold accessories.
Foundation Matching: When choosing foundation or makeup, look for shades labeled as warm or neutral, typically falling within the medium to dark range. These shades are more likely to match caramel skin tones.
Observation: Stand in natural light and examine your skin tone. If your skin has a warm and glowing quality, and if you fall within the medium to dark range, you might have caramel skin.
It's important to keep in mind that skin tones can be hugely varied, and there's no exact set of rules for each color. The language used to describe skin tones is often a matter of opinion and can depend on where you're from. If you want to get a more precise understanding of your skin tone, why not speak to a makeup artist or skin doctor?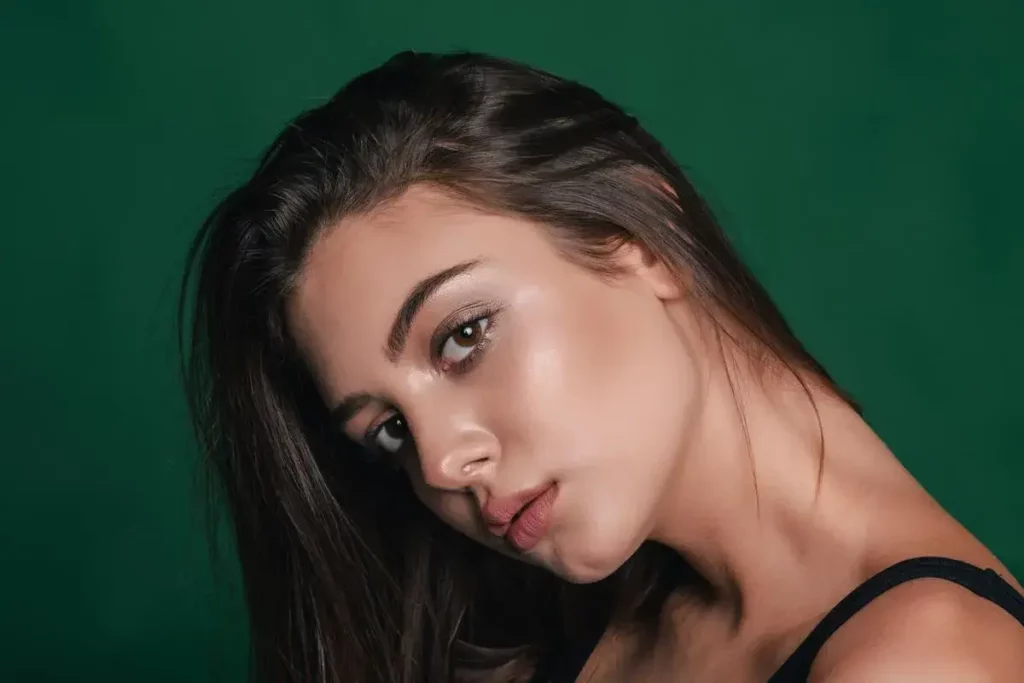 How can I get the perfect caramel toned skin? Which I will love
Achieving a skin tone that you personally love involves a combination of care, protection, and self-acceptance. Here's a comprehensive guide to help you work towards your desired caramel skin tone:
1. Establish a Skincare Routine:
Cleansing: Cleanse your face twice daily to remove dirt, oil, and makeup, keeping your skin free from impurities.
Exfoliation: Gently exfoliate 2-3 times a week to slough off dead skin cells, promoting a smoother and more radiant complexion.
Moisturizing: Use a moisturizer suitable for your skin type to maintain hydration and prevent dryness.
Serums and Treatments: Incorporate serums with ingredients like Vitamin C, hyaluronic acid, and niacinamide to target specific concerns like pigmentation and uneven skin tone.
2. Sun Protection:
Sunscreen: Apply a broad-spectrum sunscreen with at least SPF 30 daily, even on cloudy days. Sun protection prevents sunburn and hyperpigmentation, preserving your skin's tone.
3. Healthy Lifestyle Choices:
Hydration: Drink plenty of water to keep your skin hydrated from within.
Balanced Diet: Consume a diet rich in antioxidants, vitamins, and healthy fats to nourish your skin. Include fruits, vegetables, whole grains, lean proteins, and Omega-3 fatty acids.
Limit Sugar and Processed Foods: Reducing sugar and processed food intake can help maintain stable blood sugar levels and prevent skin issues.
4. Maintain Even Skin Tone:
Targeted Treatments: If you have specific concerns like acne scars or uneven pigmentation, consider treatments like chemical peels or microdermabrasion under the guidance of a dermatologist.
Brightening Ingredients: Look for products with ingredients like licorice extract, kojic acid, and alpha arbutin to address hyperpigmentation.
5. Consult Professionals:
Dermatologist: Consult a dermatologist for personalized advice and recommendations based on your skin's unique needs.
Professional Treatments: Dermatologists can provide treatments like laser therapy or prescription skincare products for more intensive results.
6. Patience and Self-Love:
Understand that changes take time. Love and embrace your natural skin tone while working towards improvements.
7. Makeup and Fashion:
Makeup: If desired, use makeup to enhance your complexion temporarily. Choose foundations and products that match your undertones.
Clothing Colors: Opt for clothing colors that complement your skin tone, enhancing its beauty.
8. Emotional Well-Being:
Self-Care: Engage in self-care practices that boost your mental and emotional well-being, as feeling good on the inside often translates to feeling good about your appearance.
Confidence: Confidence shines through any skin tone. Embrace and celebrate your uniqueness.
Remember, achieving a perfect skin tone is subjective, and true beauty lies in feeling comfortable and confident in your own skin. Embrace the journey and appreciate the diversity of skin tones that make each individual unique.
Why Protecting Your Skin Matters
Keeping your skin safe and keep your caramel complexion shielded from the sun's damaging UV rays and all the other crap in the air. Lathering up with a high SPF sunscreen is a no-brainer if you don't want to deal with sunburn, dark spots, and early wrinkles. And don't forget to rock a wide-brimmed hat and some long sleeves when you're out and about to give yourself that added layer of coverage.
Care Your Gorgeous Caramel Skin
Skin Protection is Key
Taking care of caramel skin means making sure you're protecting it to keep its natural radiance and well-being. Sun safety is absolutely key, as caramel skin can be easily affected by sunburn and sun damage. Regularly applying a broad-spectrum sunscreen with at least SPF 30 can help prevent skin damage and maintain an even skin tone.
Use Gentle Cleaning Products
Caramel skin tends to be sensitive, so it's essential to use gentle cleaning products that won't strip the skin's natural oils. Opt for a mild, fragrance-free cleanser that won't cause irritation. Avoid using harsh exfoliants too frequently, as this can lead to skin dryness and redness. A gentle exfoliation routine once or twice a week can help remove dead skin cells and promote a radiant complexion.
Prevent Scarring
Caramel skin can sometimes be more susceptible to scarring, whether from acne, cuts, or other injuries. To prevent scarring, avoid picking at acne or blemishes. Instead, use gentle and non-comedogenic skincare products to manage breakouts. If a wound occurs, keep it clean, apply an antibiotic ointment, and cover it with a sterile bandage to reduce the risk of scarring.
Avoid Wrinkles
To keep your caramel skin looking young, make sure to moisturize every day and look for products that have antioxidants like vitamin C and E. Facial exercises and getting enough rest also help keep wrinkles away.
Also Read: Benefits of regular exercise on mental health
Nutrient-Rich Diet
To keep your caramel skin looking its best, make sure you're eating nutritious foods and drinking plenty of water. Load up on antioxidant-rich fruits and veggies like berries, leafy greens, and nuts, and don't forget fatty fish. Staying hydrated will help give you that glowy complexion you're after.
Prevent Scarring
If you have darker skin, you're more likely to get hyperpigmentation and scarring from blemishes and skin traumas. Make sure to get products that can help reduce the look of your scars and help your skin stay healthy and soft.
Hydration is Key
Proper hydration plays a significant role in caring for caramel skin. Drinking an adequate amount of water throughout the day helps keep the skin hydrated from within. Additionally, using a moisturizer that suits caramel skin's needs and applying it after cleansing can lock in moisture and create a protective barrier against external factors.
Things to know about light caramel skin tone
Light caramel toned skin falls within the range of medium to light complexions and often has warm undertones that give it a golden or peachy warmth. It's a versatile canvas for makeup, allowing for a wide variety of shades to complement the skin. People with this skin tone should be mindful of sun protection, as even though it has some natural defense against the sun, sunscreen is still important to prevent damage. Skincare concerns might include hyperpigmentation, so using products with brightening ingredients can help. Embracing individuality and practicing self-care are essential, as confidence shines through any skin tone. Clothing colors like earthy tones and warm shades can enhance the skin's natural glow.